Virtual Gallery
Provider Bio
Alexandra Naoumofski
Hôte Gallery
January 2020
THURSDAY, 30th January 18.30 – 20.30
Finissage Sunday 09/02/2020 16h-19h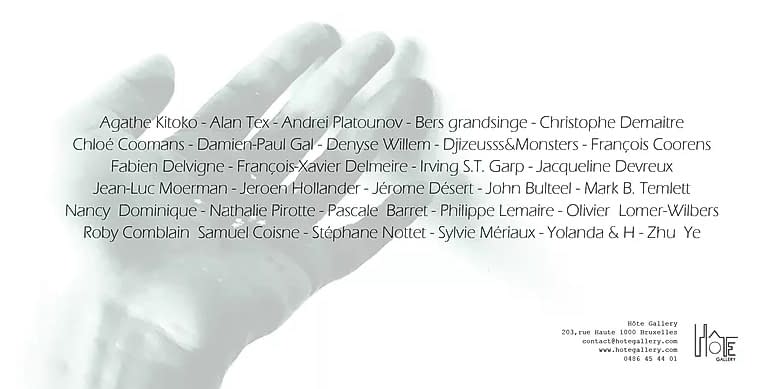 La philosophie de Hôte Gallery repose sur un concept important: l'engagement.
Cet engagement se traduit de différentes manières:
Hôte Gallery s'engage à promouvoir 6 artistes par an.
Hôte Gallery tient à cœur de représenter des artistes socialement engagés dont le message délivré bouleverse les idées préconçues, soulever des questions avec le public sur la vie et la société.  Elle proposera également une fois par an un artiste en résidence ainsi que des artistes internationaux. A cet effet un studio a été prévu pour héberger l'artiste, il sera ainsi immergé dans la société locale et il aura un endroit pour créer de nouvelles œuvres. A la fin de sa résidence, une exposition sera organisée.
​Comment on our blog
Hôte Gallery tentera d'ouvrir les frontières de l'art et de briser certaines barrières. Par conséquent, dans le cadre de l'exposition sera organisé un happening . Moment consacré à de nouvelles expériences tant à la fois pour les artistes et le public.
Hôte Gallery estime qu'il est important de préserver notre art traditionnel artisanal. Le patrimoine de nos ancêtres qui ne correspond plus au goût actuel mais que l'on peut récupérer et intégrer dans la société moderne. Les matériaux anciens ne devraient pas être considérés comme des déchets, mais comme une source d'inspiration et une base pour des idées nouvelles et modernes. Cela peut être fait littéralement par le recyclage, mais aussi par une récupération plus philosophique.
Hôte Gallery se passionne de l'art de ses artistes et de l'évolution de leur travail.
Hôte Gallery est stricte dans le choix des artistes qu'elle représente parce qu'elle aimerait que leurs œuvres touchent le public. En s'appropriant une toile, l'acheteur  assure que non seulement l'artiste peut «vivre», mais aussi que la culture survit à l'art lui-même.
Language(s)
English
French
Our services
Currently no items or event tickets available - contact the art host for individual offers.
PDF files for download, e.g. free-tickets, price lists
Here you can find documents related to the art activity, such as free tickets. It seems the art host has not uploaded any documents yet.
Book Now Price

€0.00
Review & Q&A
Get answers to your queries now
Please login to submit your question.
Contact Artist
User Login
Related Host